January 2020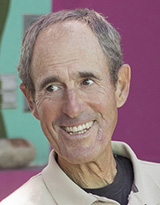 When I asked my first Zen teacher about becoming a monk, he said, "Monasteries are places for desperate people." Many of us are drawn to the spiritual path because of the suffering we experience as the result of early-life trauma, be it childhood abuse or neglect, life-threatening experiences, or repeated situations where our physical or emotional survival or integrity seem to be at stake.
Compared with the ordinary range of painful life experiences, trauma has a unique impact on the psyche and the nervous system that can complicate the awakening process and leave us feeling especially frightened, isolated, or unintegrated.
In this satsang, we'll explore how to relate to the effect our trauma continues to have on our lives, in the context of awakening. Includes teachings, guided meditation, and dialogue.
Stephan Bodian has been sharing the direct approach to spiritual awakening for more than 40 years. A former Buddhist monk and a longtime student of Advaita master Jean Klein, Stephan received Dharma transmission from Adyashanti in 2001. Since 2007 he has taught the annual months-long School for Awakening, which will begin again, in online form, in January 2020. His books include Wake Up Now and Beyond Mindfulness.
Suggested donation: $15 to $25
Find out more »
+ Export Events