Stephan Bodian ~ Just Be Who You Are!
Sunday, November 10, 2019 @ 10am-12noon (Pacific Time)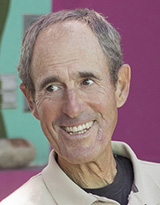 10 am to 12 noon (Pacific Time – San Francisco, CA, USA) Time Zone Converter
"Just be who you are." This simple injunction from Ramana Maharshi has the potential to cut through all our conditioning and invite us to return directly to our very own true self. The first step involves penetrating through to our deepest, groundless ground and abiding in unconditional, nondual presence. No self, no other, just This, the one without a second! This is what I AM.
But the next step is often the more challenging: Clearly expressing the light and the love that we've realized ourselves to be through this tender, imperfect human form. Remembering and abiding as who we are amid the many challenges of intimate relationships and work in the world. Knowing who we are, how do we keep getting hooked in and forgetting—and how can we snap out of the trance of separation and return home?
Let's meet together in satsang to explore this dance of embodying the light. Includes teachings, guided meditation, and ample time for dialogue and discussion.
Stephan Bodian has been sharing the direct approach to spiritual awakening for more than 40 years. A former Buddhist monk, a licensed psychotherapist, and a longtime student of Advaita master Jean Klein, Stephan received Dharma transmission from Adyashanti in 2001. Since 2007 he has taught the annual months-long School for Awakening, which will begin again, in online form, in January 2020. His books include Wake Up Now and Beyond Mindfulness.
Suggested donation: $15 to $25
PLEASE REGISTER EARLY if you can. Review in advance info for joining event.
NOTE: All event are shown in PACIFIC TIME, as in San Francisco, CA, USA (more details on time conversion below)
To proceed to Registration, please affirm that you have read and agree to these terms:
click here to READ TERMS.

TIME CONVERSION for your location (see link to Time Zone Converter near top of this page)
All event are shown in PACIFIC TIME, as in San Francisco, CA, USA:
MORE INFO ABOUT TIME ZONE CONVERSION
Pacific Daylight Time (PDT) March into November and Pacific Standard Time (PST) November into March
Check specific dates here: Clock Changes in United States
UTC (Coordinated Universal Time), same as GMT (Greenwich Mean Time), is the international basis for other time zones.
10 am PDT (Pacific Daylight Time – San Francisco, CA, USA) is 5 pm UTC
10 am PST (Pacific Standard Time – San Francisco, CA, USA) is 6 pm UTC