April 2019
Paul's unpretentious, humorous and energetic style of street-level non-duality is honed by his years of involvement with 12-step programs and the recovery community, as well as his background in Zen, Advaita and A Course in Miracles. In colorful and direct language, he points to the many ways we reinforce what he calls "selfing", urging his listeners to honestly consider the facts of their daily experience, and look beyond the pull of the past and future, and the self-reinforcing self-importance of ego-identity. His direct, uncompromising pointing doesn't provide a refuge for entrenched conditioning and the sense of separateness, no matter how convincing that experience may be. Paul is the author of The Escape to Everywhere and the subject of the DVD Traveling Lighter.

"We are saddled with the proscribed way of looking called self-centeredness. Everything is perceived as to how it pertains to me. The thing to do is to turn the light on it to see that all there is, is subject; there is no object called me as a subject. There's just subjectivity. That's the truth. Then enlightenment and all these goals become non-goals, because you realize there is nothing to seek."
Suggested Donation $15-25
No one turned away for lack of funds.
Find out more »
A Rustic Weekend Retreat with John Prendergast
Saturday April 27th and Sunday April 28th
10:00am to 5:00pm, Fairfax, Marin County
Join us for a weekend retreat on beautiful private property in Fairfax for a two-day deep dive into true nature. Through dialogues, meditation, and dyadic inquiry we will explore what it means to experientially take refuge in not knowing, and to allow attention to fall into the heart and the ground.
We will also enjoy the 50 acres of ridgetop land, with glorious views of Mount Tam and the surrounding area, with many trails for walking and savoring the spring wildflowers. Weather permitting, meetings will be held outdoors in a shaded oak grove. Otherwise, we will meet inside.
John is a spiritual teacher, psychotherapist and retired adjunct professor of psychology at CIIS, known for his pioneering work in integrating nondual wisdom and psychotherapy. A long-time student of both Jean Klein and Adyashanti, he was asked to share the dharma by Dorothy Hunt. John brings a depth of experience, insight, warmth, and compassion to his teaching work, and is especially skillful in guided meditative inquiries and one-on-one dialogues. He is the author of In Touch (Sounds True, 2015) and a forthcoming new book called The Deep Heart: Our Portal to Presence (Sounds True, Nov. 2019). He offers quarterly daylong intensives in the Bay Area, and residential retreats and seminars around the U.S.
"Once we get over the initial shock, it is a huge relief to see and feel that we are not who, where, or when we have taken our self to be. The truth is that we don't know and can't know any of this – at least not with our ordinary strategic, goal-oriented mind. We discover that we can rest in not knowing. This is not the same as being ignorant. We are not ignoring anything. In fact, we are facing an important truth – the limits of the conditioned mind. There is a great deal in life that we don't know, can't know, and perhaps most importantly, don't need to know. This insight frees attention to move from its temporary residence in the forehead to the depths of the heart area. Acknowledging that we don't know, opens us to a different type of knowing."
Meals
A light organic vegetarian lunch, and tea and cookies at tea time, will be provided free of charge, or you may bring your own food, or head out for lunch at Good Earth Natural Foods or a number of local restaurants.
Accommodation
It is expected that most attendees will commute; however, limited shared dormitory-style accommodation is available if you want to spend the night.
Registration
Pre-registration is required, as attendance is limited to 30 people.
For more information or to register, email robmschwartz@yahoo.com.
Directions and logistical details will be provided upon registration.
Suggested donation: $150
No one turned away for lack of funds.
Find out more »
May 2019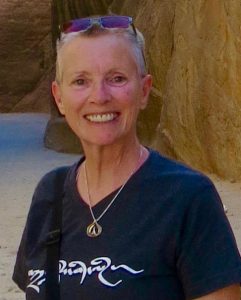 After calling the Himalayas her home for seven years, today "accidental mystic" Mary Reed travels the world startling audiences awake with the Divine love conveyed through her profound mystical experiences.
In the summer of 2000, she was a busy executive at an NGO in Washington, DC, directing global healthcare programs, when, out of the blue, she started having powerful mystical visions that totally upended her life. After years of self-examination, many of them spent living in a Tibetan Buddhist nunnery in northern India, she returned to the west to inspire joyful collective resurrection with her unique view of our awakening world.
Her work is rooted in eighteen years of direct engagement with Divine Masters, whom she does not channel but temporarily becomes, experiencing from within their unique forms — an ability she neither sought nor easily accepted. Mary guides others using only the wisdom gleaned directly from Divine sources, without doctrinal bias or filters. Her unfathomable experiences are both an invitation and road map to visceral remembrance of the healing wisdom that is already within us.
Mary is the author of the award-winning book, Unwitting Mystic and the subject of a feature film currently in development called Love, Mary Reed.
"As humanity maneuvers through this magnificent time of "fracturing" in our collective awareness, most of us have become disoriented as the old foundations of normalcy have broken apart. Depending on the day and where our awareness is focused, we're either elated or alarmed, empowered or enraged, equanimous or trying to remember how to get there. Even the most awakened leaders, teachers, healers, students and everyday folks must navigate the ever-shifting ground upon which we now stand, at times uncomfortably, together.
"From within — and as — Unitive Consciousness, there are powerful perspectives and tools that can help us use what's happening to create what comes next (or allow to be created). It brings me great joy to share these perspectives and tools with the Open Circle community."
Suggested donation: $15-25
No one turned away for lack of funds
Find out more »
+ Export Events