April 2021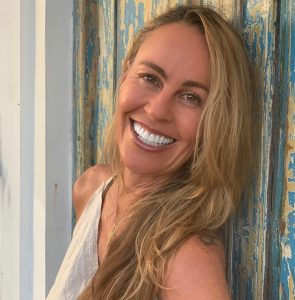 Our collective unresolved history, traumas and fixation patterns are stored within the neuro-pathways of our tissues, frozen in time, thus clouding our direct experience. We can allow these places to thaw, unwind and be metabolized by the warmth of our loving presence. In this way, we discover how to participate in creating the safety and trust required to open to an embodied intimate relatedness with ourselves, Life and one another.
Utilizing conscious breath, sound vibration, subtle intrinsic movement, embryological anatomy and provocative inquiry we enter into the inner alchemy that allows a dissolve of any out dated structures that may be obstructing our path. A psycho-spiritual somatic reorganization and higher order of self-regulation arises as our cells surrender into the all-pervasive holding ground of nature that is always present.
Ajaya Sommers is a gifted teacher, author, public speaker and creative catalyst in the field of psycho-spiritual somatic integration. All of her programs are grounded in science, expanded through devotional practice and made real through direct experience.
Find out more »
Knowing truth is not enough to embody it. This webinar will guide the participants to actualize the recognition of our true nature as One Consciousness in the everyday life experience, and to overcome its challenges as reflections of the sense of separation. The weekly meetings will be both theoretical and experiential, with meditation or practices to follow every day, and to accompany the process. Topics include: Recognizing Truth; Fear or Joy; The other is the You that You Haven't Met Yet; Being YourSelf; and An Imperfect Journey towards Perfection.
Shakti Caterina Maggi has been sharing a message of awakening to our true nature as One Consciousness since 2003. Her approach to Self-Realization is very contemporary and accessible, while profoundly in tune with Advaita and the non-dual Tantric traditions. She reveals the real possibility of seeing what we truly are, and embodying it in our everyday lives with clarity, wisdom, and humor.
Find out more »
+ Export Events