February 2020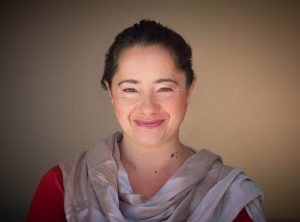 Love is not an emotion but the space in which you and I are one.
Love is the impersonal background that compassionately includes all living beings, and in which all the polarities of duality fade off and reveal their unique source.
In this sense, we could say that love is our true essence, despite the various layers of conditioning that, often, cover it up.
The Satsang will start at 7 PM, ending at 9 PM, but we invite you to join us at 6:30 for chanting Bajans together with Krishna Kent Welsh and Shakti Caterina Maggi.
Anybody can join us up until 7, but please do not enter after that time as the meditation will get started punctually.
Shakti Caterina Maggi has been sharing a message of awakening to our true nature as One Consciousness since 2003. Her approach to Self-Realization is very contemporary and accessible, and is profoundly in tune with Advaita and the non-dual Tantric traditions. She reveals the real possibility of seeing what we truly are, and embodying it in our everyday lives with clarity, wisdom, and humor.
She was recently asked to contribute to the anthology On the Mystery of Being: Contemporary Insights into the Convergence of Science and Spirituality edited by Zaya and Maurizio Benazzo, the founders of the Science and Non-Duality (SAND) Conference. She teaches in Europe, Canada and the USA, offering satsang, seminars and retreats.
"The true Heart is the space in which we can deeply meet ourselves and the entire world. The way to the Heart is an embodied Consciousness, in which we are divinely human."
Saturday, Feb. 21st, 6:30 pm to 9:00 pm
Suggested Donation: $15-$25 (cash or check)
Also see our East Bay events listings for details on other events in this series with Shakti...
Fri. Feb. 21st evening & Sun. Feb. 23rd Daylong
Find out more »
March 2020
July 2021
August 2021
+ Export Events