Stephan Bodian ~ Heart Wisdom in Challenging Times
Saturday, October 8, 2022 @ 9:00am-10:30am (Pacific Time)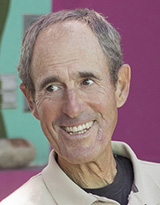 "All you need to do is find out your source and take up your headquarters there."
~ Sri Nisargadatta Maharaj
This is a simple and elegant prescription for an awakened life from one of the great sages of the nondual tradition. But of course it's trickier and more elusive than it might sound at first read. How do we realize our source, our natural state of inherent wakefulness? And once we do, how do we establish our headquarters there?
This is part of a two-part series of online meetings, in which you will be guided to ground yourself in your deepest inner knowing, the source of all genuine wisdom and compassion, and respond to life's inevitable challenges from this awakened perspective. Sat sang ("being together in truth") features guided meditations, pointers and teachings, and ample time for dialogue and discussion. I invite you to join me and look forward to seeing you there.
The other date in this two-part series is Nov. 12th (click for info & registration).
See Register button below for Oct. 8th.
You are welcome to attend either one, or both meetings of this series.
Stephan Bodian is a teacher in the nondual wisdom tradition of Zen, Dzogchen, and Advaita and the founder and director of the annual School for Awakening, an intensive six-month program of exploration and study. Trained as a Buddhist monk for a decade, he studied Advaita for many years with Jean Klein and received Dharma transmission from Adyashanti in 2001. His books include Wake Up Now; Beyond Mindfulness; Meditation for Dummies; and Buddhism for Dummies (with Jon Landaw).
More about Stephan Bodian: www.stephanbodian.org
Suggested donation: $15 to $25
No one turned away for lack of funds.
Please register early if you can.
The event will be recorded and emailed to participants within a week.
To check your local time, use a tool such as: Time Zone Converter