October 2019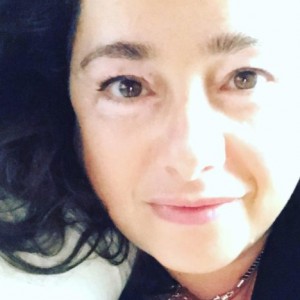 Shakti is a teacher very well known in Europe and her native Italy, who offers a contemporary and accessible vision of true awakening that is profoundly in tune with Advaita and nondual Tantric traditions.
The spiritual journey inevitably leads to the confrontation between our "spiritual life" and our "material life", discovering how and where we truly embody the truth of our heart. Realizing the emptiness of our true nature is just the starting point of an integration process that can take several years and involve all aspects of our lives, and leads us to several moments of crisis in which old egoic patterns of behavior that are still based on the separative mind emerge to be dissolved by the light of Awareness.
Shakti has spent many years deepening this integration process. With wisdom, humor, and heartfelt connection, she shares a message of discovering our divinity at the very core of our humanity. Shakti has been sharing this message of non-separation since 2003 with many people around the world, especially in Italy and in Europe, where she holds satsangs and retreats.
"Peace is not a destination, but a starting point. Find that Peace that rests behind anything and anybody and bring it into your world. Every human being looks for Peace in their inner or outer reality. In this call for clarity, what we are looking for is what our true nature actually is.
"We are used to imagining that the dissolving of inner and outer conflicts comes as the result of some action, whereas it is only when we move from Peace that those actions will bring the end of any conflict. Moving and living from Peace is recognizing what we are, and integrating it in our everyday life.
"Awakening to your true nature means to wake up to your true essence that lies behind any conflict of daily living. Thoughts and feelings are not an obstacle to this recognition, but the direct expression of how we know or ignore ourselves. Once we find that silence that rests behind manifestation, the ego will come back, out of habit. If we can recognize its presence, not as a disturbance but as an opportunity to integrate the message, our everyday life becomes our true spiritual journey. The Peace of our Being becomes the world we see and live in."
Sliding Scale: $45-$105, no one turned away for lack of funds.
Email tommy@sonic.net to reserve a seat
Where: 8476 Sonoma Ave, Sebastopol, CA
Park on Sonoma Ave, walk down short driveway to to house with carport.
Arrive 10-15 minutes early for the best seat.
Find out more »
+ Export Events