April 2019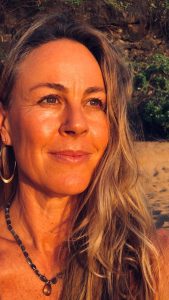 Please note that this gathering is limited to approximately 15 people, so pre-registration is strongly recommended. Please see below for more information.
In this four-part series we will explore through experiential solo and partner practices the intimate initiations of Sex, Love, Loss and Death as the developmental blueprint of our human embryo, and thus the ongoing continuum that we call, Life. We will name and presence the distortions of the life force that also occur due to the traumas of our cultural and ancestral inheritance.
The deeper invitation from Life is to remember and recognize the holy love story of our origins ─ not as an event from the past that we might read about in biology class, but as a memory of wholeness that is embodied and tangible. This living memory gifts us with the freedom to be here in the eternal now, expressing as the Miracle of Life.
Session 1 (April 6th): Original Intimacy
Original intimacy with our innocence, the core embryological motifs that inform our initial physiological and metabolic development that later become psycho-spiritual somatic initiations of the human continuum of experience.
Session 2 (April 13th): The Central Reality of the Heart
We will experientially dive into the developmental motifs that are central to your direct and intimate experience of being alive. Growing our capacity for staying present with more feeling and thus embodying more vitality and authenticity.
Session 3 (April 20th): Relational Intimacy
Practices for embodied relational intimacy ─ staying connected to your direct experience/authentic truth, while being in intimate relations with another.
Session 4 (April 27th): Alchemical Intimacy
Staying authentic with you in daily life ─ the intersection of meeting your human needs, desires, impulses amidst the fields of culture, family, ecosystem, cosmos and the ever deepening call of receiving and offering your unique gifts to Life.
Within a field of unconditionally loving presence, Ajaya facilitates a unique discovery process called Core Embodiment®, an integrated system of embodiment practices, principles and perceptual orientations to awaken and align with the power of your human potential. She is a Biodynamic Craniosacral Integration Teacher, Authorized Continuum Teacher, gifted healer, writer and creative catalyst in the field of embodied awakening and trauma resolution for the last 26 years. All of her programs are grounded in science, expanded through devotional practice, and made real through direct experience.
Registration Information:
Due to limited space, and in order to facilitate a more intimate container, these gatherings will be limited to about 15 people. Therefore, we strongly recommend pre-registration. For anyone who has not pre-registered, admission at the door will be as space allows. Note that at-the-door registration will be available at the first session only, not at subsequent sessions. Please try to arrive at least 5-10 minutes before the starting time.

Pre-registration: $100
For those unable to attend in person, the sessions will  also be Live-streamed
and made available as recordings.
Pre-registration: $100
This is a Livestream event in combination with Local in person event. There will not be interaction with the Livestream viewers, as there is with our regular participatory web events.
Location:
Open Circle Room at Chochmat HaLev , 2215 Prince Street, Berkeley
(The first door on the left down the side passageway)
Also note that this series is not by donation.
We require a specific admission price, whether by pre-registration or at the door.
Thank you for your understanding and support.
Additional Upcoming Retreat:
Note also that Ajaya will be conducting a retreat on the Big Island of Hawaii May 15-19th.
Click here for more information.
Find out more »
+ Export Events