Upcoming Events
September 2017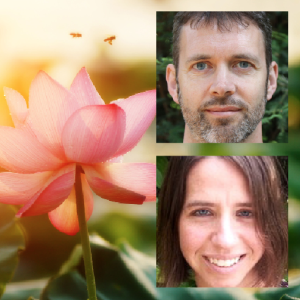 WE RELATING: A New Paradigm
To Transform All Our Relationships  
3 Month Course
September 2nd- November 18
Join Adam Chacksfield, Ph.D, and Kate Foley, MSW, in a truly transformative journey of relating at the deepest level. Through sharing their explorations with We-relating, engaging interactive practices, and ongoing unconditional loving support and guidance, Adam and Kate will invite you into a new way of being in all your relationships.
The ultimate promise of relating is that we can really meet in the whole truth together rather than from separate positions. We can fall inside each other, and experience each other's experience from the inside, completely given to the interbeing of We. In this union we realize the fulfillment of love's movement through us and simultaneously open to the wondrous possibility of participating in the aliveness of the interbeing. In this shift to relating from inside We rather than from opposite sides, we are transformed at the deepest levels. This is what love has been calling us to all along.
In this course we will explore and embark on realizing this universe-transforming way of relating in our actual lives and relationships. We will also compassionately open to the truth of our existing ways of relating, bringing love and light to the places that are hurting, scared, or ashamed, so that we can transcend these earlier paradigms of relating and unlock our natural freedom and aliveness. It is only through a free offering of our whole selves that we can open to the possibility of genuine union. Whenever there is any hint of "should" or pressure to achieve there are places in us that feel like they are not being allowed that need loving attention before we can offer our whole being into union.
To learn more about the difference between "We Relating" and the earlier paradigms of relationship you can download Adam's free Map of Relationship Paradigms
If you're interested in bringing loving awareness to all of your relationships and realizing the possibility of We-relating, register for the course by clicking on the button at the bottom of this page.
WHAT THE WE RELATING COURSE OFFERS YOU:
The opportunity to directly explore and realize the highest and deepest relational possibility: We-relating.
The loving invitation to transform the relationships in your life with the support of Adam, Kate, and a community with a shared commitment to transforming relational space.
An unconditionally loving space for opening to the whole truth of our relational experiences, even the places of trembling, anger, shame, and excruciating heartbreak that we often fear make us unfit for the vibrant aliveness of intimacy and love.
Tools for seeing clearly what's really happening in relationships underneath the frequently confusing or all-too-convincing surface narratives.
Real life practices to move beyond the self-defeating relationship dynamics of the earlier relational paradigms.
WHAT THE WE RELATING COURSE INCLUDES:
Three months of continuous support and guidance to assist you in completely transforming your relationships at the deepest levels.
Four two-hour interactive workshops for the first four weeks of the course led by Adam & Kate, revealing how to transcend the earlier paradigms of relating, and connecting you with the direct experience of relating from inside we.
Two two-hour interactive integration gatherings with Adam & Kate, to catalyze greater access to the highest paradigm of relating and help move beyond the limitations of the earlier paradigms.
Eleven weekly ninety-minute small group sessions facilitated by Kate (Adam will co-facilitate once per month) to offer personalized loving support as your relationships are transforming.
COURSE SCHEDULE
Workshops
Saturday, Sept 2, 10am-Noon (Pacific Time): Increasing Awareness & Transcendencing Earlier Relationship Paradigms
Saturday, Sept 9, 10am-Noon (Pacific Time): Loving & Healing The Parts Of Us That Fear Intimacy
Saturday, Sept 16, 10am-Noon (Pacific Time): Freeing Ourselves From Relationship Scripts & Honoring Our Truth
Saturday, Sept 23, 10am-Noon (Pacific Time): Opening To The Intimacy, Abundance, & Wonder Of We-Relating
Interactive Integration Gatherings
Saturday, Oct 21, 10am-Noon (Pacific Time)
Saturday, Nov 18, 10am-Noon (Pacific Time)
Small Group Sessions
One ninety-minute session every week from Sept 2 to Nov 18, 11 in total. The schedule for these will be set once we know the number of groups needed and the scheduling needs of participants.
ABOUT ADAM & KATE:
Adam is a heart-centered nondual spiritual teacher and the founder of the Center for Nondual Awareness. He's committed to supporting the world-transforming infusion of awareness throughout our lives and relationships. After some profound openings he left his job as a Professor, at age 33, to devote himself to spiritual exploration. In 2010, with Peter Fenner's encouragement and support, Adam started to work with groups and individuals. His teaching was then profoundly influenced by Jeannie Zandi's love-saturated transmission. Adam's deepening into the new paradigm of "we-relating" is now being inspired and supported by his immersion in Patricia Albere's Evolutionary Collective. adamchacksfield.com
Kate is passionate about supporting the embodiment of nondual awareness and cultivating heart centered relationships with self and other. She draws from over a decade of experience with working closely with heart and somatic oriented nondual teachers such as Adyashanti, Jeannie Zandi, Pamela Wilson, and Isaac Shapiro. Kate has been trained as a spaceholder for individuals and groups with Jeannie Zandi. She has facilitated online retreat sharing groups for Isaac Shapiro, Pamela Wilson, and John Prendergast. Kate offers ongoing online sharing groups and created and co-facilitates in-person exploration groups. Kate also has a background in social work and Reiki and offers heart centered awareness counseling.
REGISTRATION:
Regular Price (After Aug 20th)
Two Ways to Pay:
One Payment of $645
Three Payments of $230 (1st by Sep 1st, 2nd by Sep 20, 3rd by Oct 20)


Register Now And Save $60 With The Early Bird Special (Expires Aug 20th) 
Two Ways to Pay:
One Payment of $585
Three Payments of $210 (1st by Aug 20, 2nd by Sep 20, 3rd by Oct 20)
For more information on the course & to Register, click below
Find out more »
+ Export Listed Events