May 2020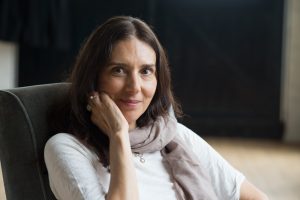 Amoda Maa's teachings offer a timeless truth that is relevant to our modern times, speaking to the contemporary seeker who wants to go to the raw edge where our spirituality meets our humanity. Through her intimate dialogues, she invites you to reject nothing, welcome everything, and surrender into the deepest falling of the open heart.
"What really matters is your willingness to turn towards tenderness in the midst of that which offends you, to stand as openness in the face of brokenness, and to bear the unbearable. This is the path of surrender .. and the only way I know to enter the slip-stream of unspeakable grace inside this human experience."
Amoda Maa is a spiritual teacher, offering meetings and retreats to support and deepen the living of an awakened life. She has been sharing her teachings since 2012, initially at small gatherings in the UK. Today, she lives in the US and her teachings are followed by a growing number of seekers world-wide. She has been a speaker at several conferences, a guest on numerous radio shows, and a guest teacher at various centers of spirituality and philosophy. She brings to her teachings a depth and breadth of understanding of the human journey, born out of her own immersion in the furnace of personal transformation. Her teachings are free from any lineage or tradition.
Amoda Maa is also the author of several books. Her most recent Embodied En-lightenment (published in 2017) — written 15 years after her awakening — is based on the many conversations at the cutting edge of spiritual inquiry in her meetings with people from all around the world, and addresses many of the ques-tions relevant to today's seeker. It has been acclaimed as "a beautiful and pre-cious gift to an emerging new humanity" as well as "the best spiritual book since Eckhart Tolle's A New Earth."
Amoda currently lives with her husband and beloved, Kavi, in New Mexico.
Thursday, May 28th, 7:00 pm to 8:45 pm
Suggested Donation: $15-$25 (cash or check)
Saturday, May 30th, 11 am to 5 pm
Sliding Scale: $60-$120 (cash or check)
No pre-registration required.
No one turned away for lack of funds.
Lunch Break:
Welcome to bring your lunch, and there are also various places near the Berkeley venue, to go out to eat.
Note: Per venue policy, only vegetarian food is allowed on premises at Chochmat HaLev
Chochmat HaLev, 2215 Prince St., Berkeley, CA
Find out more »
June 2020
December 2020
+ Export Events