Upcoming Events
August 2017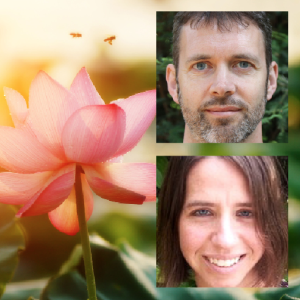 Take advantage of this daylong to deep dive into a new way of relating, a way of relating that is truly transformational. Through sharing their explorations in We relating and through interactive practices, Adam and Kate will invite you into an exploration of relating at the deepest level.  
The shift from codependent relating to authentic awake relating can be profoundly liberating. When we see through the perceived inadequacy that drives the grasping of codependency, we find that we are able to relate authentically from our truth and receive the truth of the other. However, there is a further relational possibility beyond the mutual authenticity of two individuals, where we can be so offered to the relational field that we become orchestrated by a higher consciousness than anything available independently. 
In We relating we can fall inside each other, and experience each other's experience from the inside, completely given to the interbeing of We. In this union we realize the fulfillment of love's movement through us and simultaneously open to the wondrous possibility of participating in the aliveness of the interbeing. In this shift to relating from inside We rather than from opposite sides, we are transformed at the deepest levels.This is what love has been calling us to all along.
Through this process conditioned habits of relating will be revealed. Adam and Kate will guide you through compassionately opening to the truth of existing ways of relating, bringing love and light to the places that are hurting, scared, or ashamed, so these earlier paradigms of relating can be transcended and natural freedom and aliveness unlocked.
To learn more about the difference between We relating and the earlier paradigms of relationship you can download Adam's free Map of Relationship Paradigms
And if you wish to dive even deeper into We relating and truly commit to revolutionizing yourself and your relationships, check out Adam and Kate's 3 month We relating course~ WE RELATING: A New Paradigm to Transform All Your Relationships.
Adam is a heart-centered nondual spiritual teacher and the founder of the Center for Nondual Awareness. He's committed to supporting the world-transforming infusion of awareness throughout our lives and relationships. After some profound openings he left his job as a Professor, at age 33, to devote himself to spiritual exploration. In 2010, with Peter Fenner's encouragement and support, Adam started to work with groups and individuals. His teaching was then profoundly influenced by Jeannie Zandi's love-saturated transmission. Adam's deepening into the new paradigm of "we-relating" is now being inspired and supported by his immersion in Patricia Albere's Evolutionary Collective. adamchacksfield.com
Kate is passionate about supporting the embodiment of nondual awareness and cultivating heart centered relationships with self and other. She draws from over a decade of experience with working closely with heart and somatic oriented nondual teachers such as Adyashanti, Jeannie Zandi, Pamela Wilson, and Isaac Shapiro. Kate has been trained as a spaceholder for individuals and groups with Jeannie Zandi. She has facilitated online retreat sharing groups for Isaac Shapiro, Pamela Wilson, and John Prendergast. Kate  also has a background in social work and Reiki and offers heart centered awareness counseling.
Sliding Scale: $65 to $125 with Pre-registration
$80 to $125 at door
Scholarships available
Please address inquiries to localevents@opencirclecenter.org
Pre-registration requested.
(but not required - there will also be walk-in registration at the door)
Find out more »
September 2017
October 2017
+ Export Listed Events