Stephan Bodian ~ Does Donald Trump Have Buddha Nature?
Sunday, February 5, 2017 @ 10am-12noon (Pacific Time)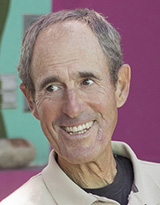 10 am to 12 noon (Pacific Time – San Francisco, CA, USA) Time Zone Converter (more details below on time conversion)
Registration below
After a decade as a Zen monk and several years studying Dzogchen, Stephan Bodian met Jean Klein, a pioneering European teacher of Advaita Vedanta. Shortly after, he had a profound awakening to his true identity as timeless presence. After Jean's death, Stephan met Adyashanti, and in 2001 Adya invited him to teach. His approach blends direct, experiential, non-dual wisdom with the insights of Western psychology to support students in realizing their true nature. Trained and licensed as a psychotherapist, Stephan also offers individual spiritual counseling and mentoring to people around the world. He is the author of several books, including Wake Up Now: A Guide to the Journey of Spiritual Awakening and Beyond Mindfulness: The Direct Approach to Lasting Peace, Happiness, and Love.
Suggested donation: $10 to $15
PLEASE REGISTER EARLY if you can. Review in advance info for joining event.
NOTE: All event are shown in PACIFIC TIME, as in San Francisco, CA, USA (more details on time conversion below)
To proceed to Registration, please affirm that you have read and agree to these terms: click here to READ TERMS.


TIME CONVERSION for your location (see link to Time Zone Converter near top of this page)
All event are shown in PACIFIC TIME, as in San Francisco, CA, USA:
Pacific Daylight Time (PDT) March into November and Pacific Standard Time (PST) November into March
Check specific dates here: Clock Changes in United States
UTC (Coordinated Universal Time), same as GMT (Greenwich Mean Time), is the international basis for other time zones.
10 am PDT (Pacific Daylight Time – San Francisco, CA, USA) is 5 pm UTC
10 am PST (Pacific Standard Time – San Francisco, CA, USA) is 6 pm UTC