Amoda Maa ~ Living the Truth of Awakening
Tuesday, September 25, 2018 @ 7-8:45 pm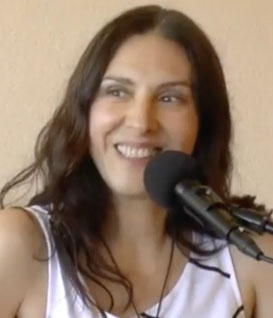 Amoda's invitation is for you to discover the openness of your true nature, to be fully awake, and then to live from this openness in every interaction of your everyday life, to be fully human. Her teachings take you deep into this discovery, offering you an intimate conversation that includes the totality of the human experience within the unbounded space of unconditioned awareness.
Amoda Maa is a contemporary spiritual teacher, author, and speaker. After years of spiritual seeking, meditation, and immersion in psycho-spiritual practices, an experience of the dark night of the soul led her to a profound inner awakening. Then, after a long period of integration, she began speaking from silence in small gatherings in the United Kingdom. She offers meetings and retreats, and is a frequent speaker at conferences and events such as SAND, Omega Institute, and Kripalu Center, attracting spiritual seekers and people looking for peace and fulfillment in an increasingly chaotic world. Her teachings are free of religion and tradition, and she brings to them a deep understanding of the human journey, born out of her own experience.
She is the author of Radical Awakening (originally released as How to Find God in Everything) and Change Your Life, Change Your World. Both books were written shortly after her awakening and before she began to speak in public. Her new book Embodied Enlightenment — written 15 years after her awakening — is based on the many conversations at the cutting edge of spiritual inquiry in her meetings with people from all around the world, and addresses many of the questions relevant to today's seeker. It has been acclaimed as "a beautiful and precious gift to an emerging new humanity."
Amoda lives with her husband and beloved, Kavi, in California.
"There's a new conversation happening. There's a growing collective desire to evolve beyond ego, because ego's power no longer works in our lives and in our world. More and more people today yearn to awaken. But this isn't the pursuit of enlightenment as a transcendent state; it's not spirituality as a hobby or a luxury or an accolade. It's a new frequency of awakening that embraces the grit and dirt of the human experience. It's about bringing spirituality right into the places where it hurts, where the rubber hits the road: such as relationships, and work, and pain and loss. My invitation is to say a radical YES to the totality of this moment … this is the heart of You meeting the heart of reality!"
To learn more, visit www.amodamaa.com
Suggested donation: $15-25
No one turned away for lack of funds