A 3 DAY Intensive with Shakti Caterina Maggi
Friday, June 15, 2018

-

Sunday, June 17, 2018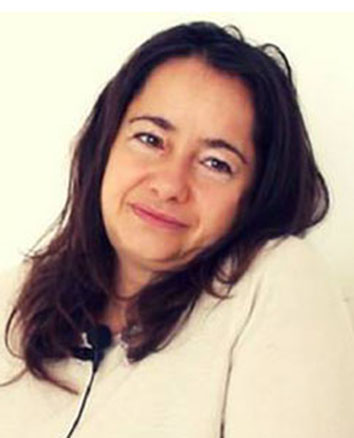 Embodying Awakening
 3 DAY Intensive with Shakti Caterina Maggi
Friday, June 15th to Sunday, June 17th
Coming right up, you'll have the opportunity to join Shakti and like-minded community from around the world for a three-day intense immersion into awakening. From the comfort of your home you will explore Embodying Awakening. 
Shakti is a teacher very well known in Europe and her native Italy, who offers a contemporary and accessible vision of true awakening that is profoundly in tune with Advaita and nondual Tantric traditions.
The spiritual journey inevitably leads to the confrontation between our "spiritual life" and our "material life", discovering how and where we truly embody the truth of our heart. Realizing the emptiness of our true nature is just the starting point of an integration process that can take several years and involve all aspects of our lives, and leads us to several moments of crisis in which old egoic patterns of behavior that are still based on the separative mind emerge to be dissolved by the light of Awareness.
This 3day intensive will help us see and dissolve our conflictual view of life, and enable us to live and embody a message of true peace and non-separation between human beings.
"Peace is not a destination, but a starting point. Find that Peace that rests behind anything and anybody and bring it into your world. Every human being looks for Peace in their inner or outer reality. In this call for clarity, what we are looking for is what our true nature actually is. The Peace of our Being becomes the world we see and live in."
Shakti has spent many years deepening this integration process. With wisdom, humor, and heartfelt connection, she shares a message of discovering our divinity at the very core of our humanity. Shakti has been sharing this message of non-separation since 2003 with many people around the world, especially in Italy and in Europe, where she holds satsangs and retreats.
www.shakticaterinamaggi.com/en
This Three-Day Intensive will consist of:
One two-hour Friday Satsang Meeting
Plus a weekend immersion with four one-and-a-half hour Satsang Meetings
Video Recordings of all five Satsang gatherings
Registration: $135
When: Friday June 15th, 10am-noon PT
Saturday June 16th, 9:30am-11:00am PT
12:00 noon-1:30pm PT
Sunday June 17th, 9:30am-11:00am PT
12:00 noon-1:30pm PT
Where: Online Webinar
For questions contact
onlineretreat@opencirclecenter.org
To proceed to Registration, please affirm that you have read and agree to these terms:
click here to READ TERMS.